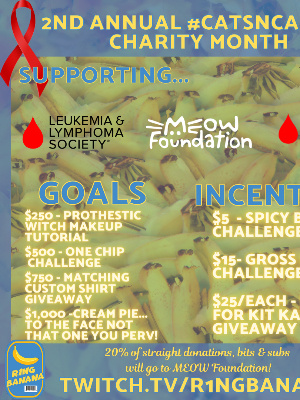 R1ngBanana's Banana Bunch
Did you know....?

​There are 137 types of blood cancer

Blood cancer research leads to progress in other cancers as well as other diseases (Lupus, Diabetes, etc)

Every 24 minutes, a Canadian will be diagnosed with a blood cancer
By supporting the Leukemia & Lymphoma Society of Canada, you are investing in the health of those impacted by blood cancers, their caregivers, and all Canadians' health.
This October, I am streaming on Twitch.tv/R1ngBanana I have different goals/rewards based off of donations this page receives. Please consider donating today!
View More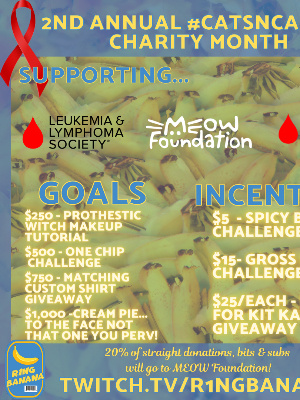 We're proud to support the blood cancer community through Light The Night.
Blood cancers are the fifth most common form of cancer in Canada, affecting more than 155,000 Canadians—our family members, our friends and neighbours, our colleagues, ourselves. But together, we can shine a light toward a future without blood cancers.
Please consider making a donation today. Thank you for your support!
Team Roster
View More

R1ng Banana
$102

Top Donors
Kodi Douglas
deVry Greenhouses Ltd .
R1ngBanana
Rebecca Simmons